Business with Heart: A Better Way To Go To Work
Paul Werder began his career getting things done the hard way. He was too sick to go to work at age 27 and was confronted with a challenging question: how does a professional in a high-stress environment succeed while maintaining optimum health and happiness?  He's explored many other difficult questions with his clients that may be similar to what you are facing:
Does everything seem like a priority for you and your team so none of you feel satisfied with what you are accomplishing? Do you complain to yourself or significant other that no one appreciates what you do?
Do you have people in key roles you cannot count on consistently exhausting everyone else's energy with no end in sight? Do you feel ill-equipped to address all of the drama this causes?
How much time does your team waste complaining about their colleagues when they are not present?  Are people talking about you behind your back that way?
Are you seeing people avoid people they disagree with or don't respect? Are you developing work-around strategies to avoid hassling with other people's egos?
Are your people checking out more than they are stepping up? Do you dread coming to work sometimes when someone treats you badly or takes their frustration out on you?
This book of 15 short, interrelated articles offers you easy to understand how-to practices to initiate positive change, first with yourself and then with your people. Paul shares his personal challenges with inspiring stories, illuminating illustrations, and provocative questions for action. He has decades of experience with thousands of people like you who required him to craft these tools to provide relevant ways to find joy at work while being very successful.
Examples include:
Personal practices to deepen your awareness of how to transform your stress into stronger confidence.
Personal practices to create a more positive work environment with a focus on what's going right
Team practices to strengthen trust and expand team learning.through your every-day assignments
Team practices to improve communication and prevent or resolve conflicts.
The keys to creating a flourishing organization with a foundation of leadership mastery and exceptional cooperation
Millions of leaders around the world are all looking for a better way to go to work so they can make their contribution to a better future for everyone. If you are one of them, this book is worth it's weight in gold ten times over!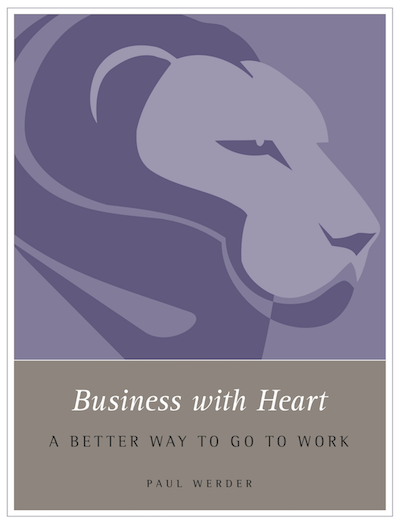 More Special Products and Payment Options
Flourishing Enterprise

Paul Werder, co-author of Flourishing Enterprise: The New Spirit of Business with eight other Distinguished Fellows from the Fowler Center for Business as an Agent of World Benefit, invites you into a visionary view of business as a positive possibility!
(This item is sold through the Amazon store.)  ⇒ ORDER NOW
Program Payments
To pay for Lionheart Programs – Please mail checks to 12042 SE Sunnyside Rd. #299, Clackamas,OR. 979015 or to pay by credit card, click on the Buy Now button located below the program. If you have any questions please contact Kathi at 503-708-2205 or email kathimc@lionhrt.com.
Click Here to view our Cancellation and Coaching Support Policy